Attention, PC builders and gamers in search of the ultimate rig!
Are you eager to sell your gaming PCs in no time? Or are you a gaming enthusiast, itching to discover how your preferences stack up against fellow gamers? Well, hold onto your gaming chairs, because we've got the scoop! We crunched the numbers from a whopping 2800 survey responses and fused them with our own sales data to unveil the holy grail of PC perfection that every gamer dreams of. Get ready to level up your gaming experience with the ultimate build!
Buyer Use Cases
It's no surprise that the majority of buyers in the market for a PC are primarily focused on gaming. However, 42% of them are also interested in streaming and content creation. To cater to these gamer-content creators, it's crucial to prioritize PCs equipped with GPUs that feature encoders and other stream-friendly capabilities. This ensures that your customers can effortlessly stream and create content while enjoying a seamless gaming experience.
Games
Now, let's look at the games that are in high demand among our buyers. Popular titles like Call of Duty (COD), Minecraft, GTA, and Fortnite are at the top of the list.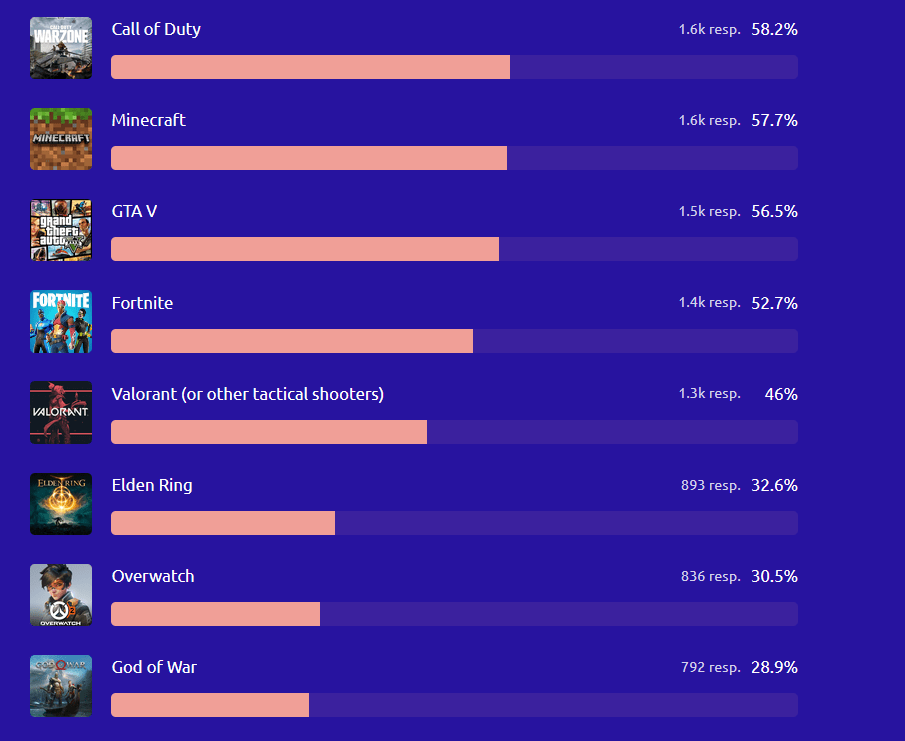 Resolution
For resolution, 1080p is still dominant but 1440p and 4k both have a respectable portion of the market with 8k just cracking 5 percent. Since most users are targeting 1080p and 1440p it's important when allocating your budget to choose a CPU that won't bottleneck your GPU. Once you are targeting 4k it is far more likely that your GPU will be the bottleneck.
Given that most users are primarily targeting 1080p and 1440p resolutions, it becomes crucial to allocate your budget wisely to ensure that you select a CPU that won't become a bottleneck for your GPU.
However, once you start aiming for 4k resolution, the dynamics change. At this point, it is more likely that your GPU becomes the limiting factor in performance. Since higher resolutions demand more graphical power, it becomes increasingly important to invest in a powerful GPU that can handle the demands of 4k gaming.
Target FPS
When it comes to target frames per second (FPS), it seems that the most dominant choices among gamers are 144 and 240 FPS. These refresh rates offer a smooth and responsive gaming experience, allowing for fluid gameplay and precise controls.
While there may be a few outliers who prefer higher or lower FPS, the majority of gamers tend to gravitate toward these two options.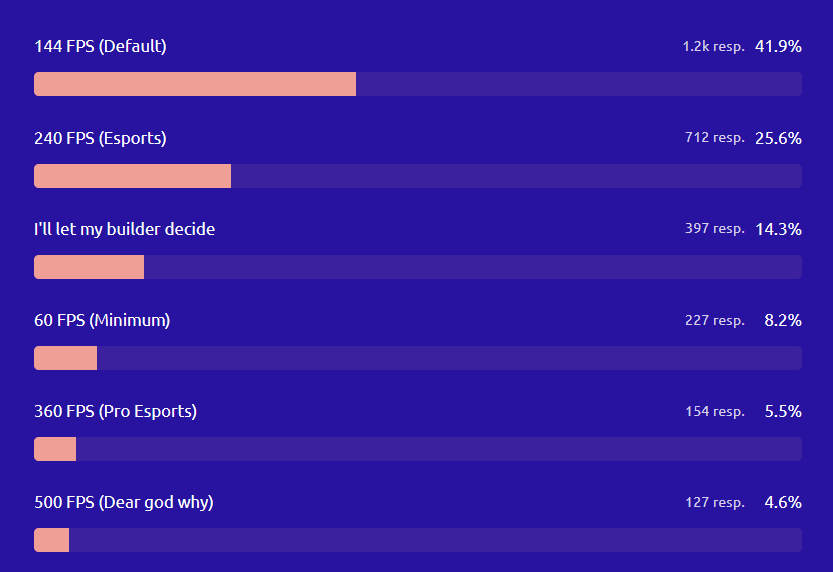 Part Selection
CPUs + GPUs
Buyers in the gaming PC market don't show a clear preference between AMD and Intel CPUs. However, when it comes to GPUs, Nvidia cards are overwhelmingly preferred. Fortunately, a significant portion of buyers (over 45%) don't prioritize a specific GPU brand. This allows for flexibility in offering various GPU options to cater to a diverse range of customers. We suggest you focus on featuring Nvidia GPUs prominently while also providing choices for brand-agnostic buyers to expand your customer base.
Cooling
AIO liquid cooling and air cooling solutions are in close demand among buyers in the gaming PC market, with no clear preference for either. When it comes to cheaper systems, air cooling tends to be more cost-effective and practical. However, AIO cooling holds an advantage in terms of shipping, as it is less likely to suffer damage during transportation because unlike tower coolers they don't put leverage on the CPU. By considering budget constraints and the need for shipping durability, you can make informed decisions when recommending cooling solutions for your customers' PC builds, offering a balance between cost-effectiveness and protection during shipping.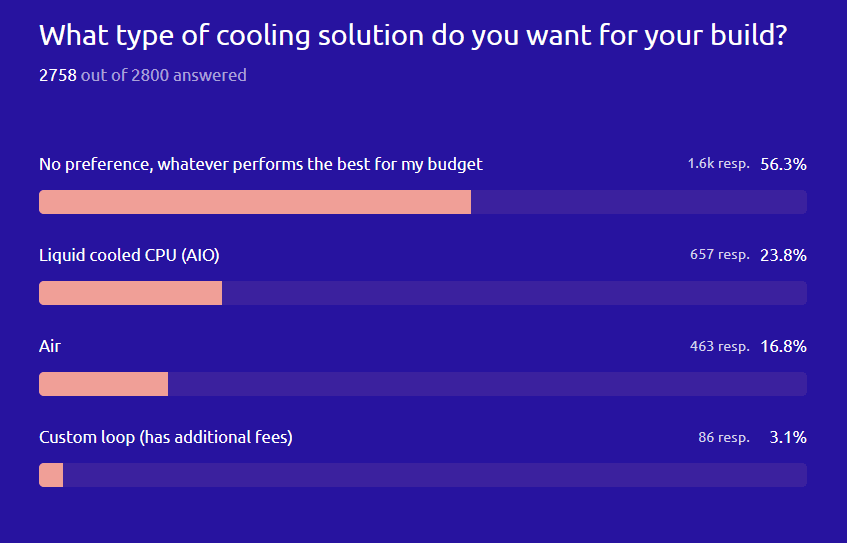 Used vs New Parts
Our survey shows that the majority of buyers in the gaming PC market, a whopping 76 percent, are totally cool with having used and refurbished parts in their builds. It's great news because it allows for more cost-effective options and opens up possibilities for using pre-owned components. However, it's crucial to be transparent and clearly indicate which builds include used parts. By doing so, you can provide customers with the right information to make informed decisions and ensure a positive buying experience. So, don't hesitate to offer builds with used parts and make sure to label them accordingly!
Pricing
In the gaming PC market, it's important to note that the majority of sales occur within the price range of $400 to $800, with the average order price at $875. Additionally, there is a notable demand for systems priced between $1000 and $1500, offering higher performance capabilities.
Considering that the majority of sales are happening at the entry-level price point, it's crucial to keep the price range in mind when building your PCs if you aim to sell them as quickly as possible. By aligning your builds with the desired price range, you cater to the preferences and budgets of potential buyers, increasing the likelihood of attracting customers.
Building the Perfect System
To meet the preferences of the average buyer profile, an ideal PC would fall within the price range of $400 to $800, featuring an AMD CPU and an Nvidia GPU. Liquid cooling would be incorporated for optimal cooling performance. The PC would be optimized to provide a smooth gaming experience in games like Call of Duty (COD) and Minecraft, while also being capable of handling streaming tasks.
Check out some close to perfect builds for sale on Jawa.gg now: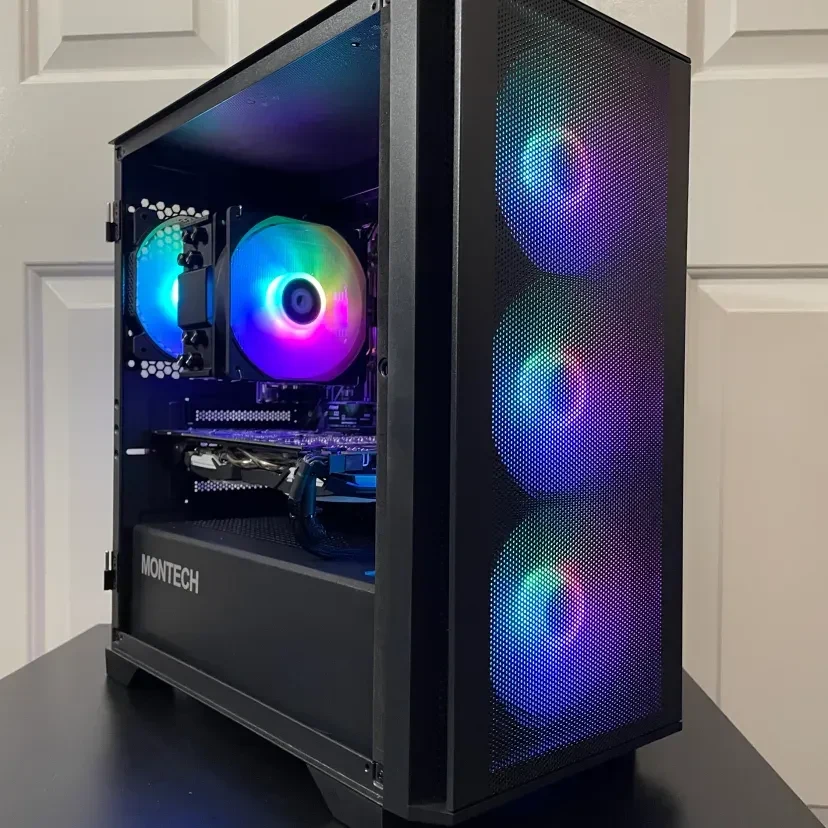 Custom RGB Gaming PC - Ryzen 5 3600 - GeForce GTX 1070 Ti - 1TB NVMe - Windows 10 Pro - Wi-Fi
Shop Now on Jawa!
Gaming PC | Intel i5 12400 | RTX 2080 | 16GB DDR4 | 1TB NVME
Shop Now on Jawa!
Surprisingly, there aren't currently any builds listed on Jawa meeting the exact ideal requirements, so we made a parts list showing what a system optimally built to sell might look like!
At the time of this article, you could price this build around $800, making about $140 in profit after fees. To increase your margin, you could probably replace the AIO with the stock heat sink and slightly reduce the price to make a bit more profit.
---
We hope this breakdown of the gaming PC market gives you some valuable insights to help you level up your PC-selling game! It's all about understanding the dynamics and meeting the demands of the majority of gamers out there. Does our data resonate with your experiences as PC sellers? Drop your thoughts in the comments!