Disclaimer: Disclaimer: The build in featured in this Friday Feature has been sold! Check out other builds by JaysPCVault!
PC gamers have been waiting almost a decade to try out one of the most popular console exclusives of all time, Last of Us, and it's finally coming to Steam/PC next week! The system requirements have been revealed and if you want to enjoy this title at 1080p 60 FPS, the developers are recommending an RTX 3060 so I have just the build for that today!
---
Favorite Features
RTX 3060 – Despite the "mid-range" and "60 series" tags, the RTX 3060 is still a monster of a graphics card for 1080p gaming. This card can allow you to play every single title easily in 1080p, and you can push to 1440p for a lot of them as well. Most prebuilt gaming PCs are still pricing RTX 3060 builds around the $900-$1200 price range (if you're lucky) so seeing a beautiful build like this at less than $900 is a welcomed treat.
White/Black Color Scheme – JaysPCVault is becoming a regular on this newsletter and it's because they continue to deliver price to performance gaming PCs that still somehow have amazing designs like this one. I'm in love with how the white Apevia Prodigy case matches beautifully with the Netac Shadow RAM, that vinyl wrap job on the power supply, and those FormulaMod extensions as well!
Ryzen 7 3700X – The GPU in this build is great but don't sleep on this CPU either! Despite being a couple generations old, this is still a very power 8 core and 16 threaded beast with a max boost of up to 4.4GHz. This is perfect for not only gaming, but also streaming, content creation, and more.
---
Price to Performance Value
Off the charts on this one. Any RTX 3060 build for $880 is going to get on my radar at this point, but especially one like this with a super clean design and a Ryzen 7 CPU. This build is close to being the cheapest RTX 3060 PC on our platform right now, but it's by far the best looking one as well. Out of all of the available options, this would be my selection for sure.
---
First Upgrades
The biggest weak point of this build is the SSD situation. It does indeed have 1TB of SSD storage, but it's a very budget Netac 2.5" drive that's capped at SATA speeds. Most builds that are rocking an RTX graphics cards (or any new mid-range build) is going to have an NVMe drive in there here in 2023. I would recommend upgrading to a 500GB or 1TB NVMe drive, moving the Windows/OS installation over there, and then keeping the Netac drive as a secondary or game library drive for extra storage. If you plan on doing any more performance upgrades after that, I would also upgrade the 600W Apevia Prestige PSU to go along with it.
---
Conclusion
If you're doing some last minute preparing to play Last of Us next week and you need a 1080p 60 FPS build for it, look no further! I can't imagine you'd find any better RTX 3060 build available on the internet right now, especially if you value the looks of your PC sitting on top of your desk. I know I do!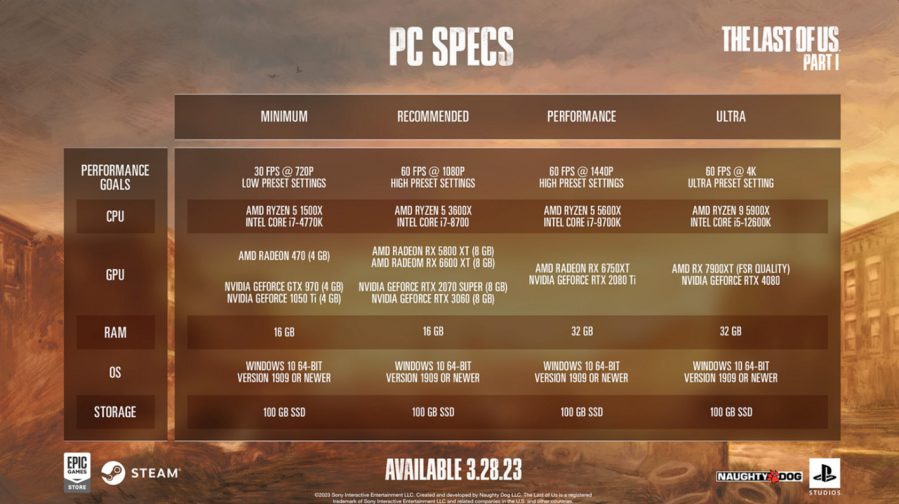 Note: This post may contain affiliate links that earn us a small commission at no extra charge to you. As an Amazon Associate, we earn from qualifying purchases.