Custom painting computer parts isn't an adventure that most people go on, but a build like this is exactly why you should consider doing it, whether you're a PC seller or just a gamer. Adding just a little bit of paint can completely take your build aesthetically to a whole new level, and then when you combine that with top tier performance, you have a killer combination which is the type of build I'll always want to talk about. Here we go.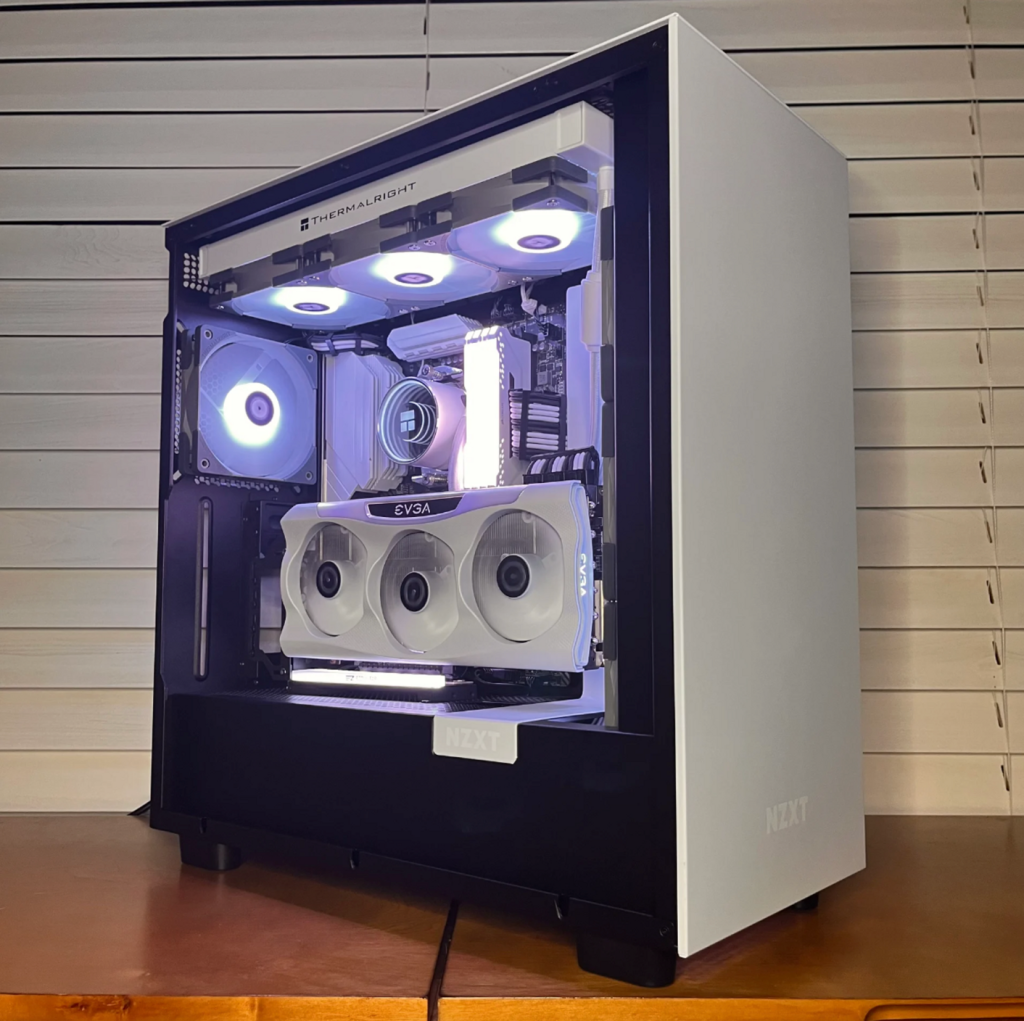 ---
Favorite Features
Custom Painting – BubbleTeaBuilds has certainly sold some really nice looking builds before, but this is one of the best. Not only are all the parts perfectly color coordinated to create a very clean and minimal white and black look, but the extra detail on these paint jobs is the cherry on top. As you can see, the EVGA RTX 3080 FTW3 is looking gorgeous with a new layer of white paint and so is the MSI B550 Tomahawk motherboard. The IO Shield, VRM heatsink, and GPU match perfectly with all of the other parts and this is an extremely well put together design.
Ryzen 7 5700G and RTX 3080 – This isn't a typical CPU and GPU combo that you see everyday, but this is definitely rocking some serious performance. Both of these products will allow you to easily play any game in 1440p which is where I'd recommend, but you could certainly dabble in 4K gaming if you wanted to. Please don't bottleneck a system like this with a 1080p monitor, 1440p minimum for a build like this.
32GB of RAM and 2TB of Storage – Not only are the main performance parts great, but the secondary specs like RAM and storage are upgraded here as well. This build comes with 32GB of Corsair Vengeance Pro DDR4 clocked at 3200MHz, along with a 2TB Gen 4 NVMe drive. That's a lot of extra money if you were eventually going to upgrade, so it's great to see parts like this here right off the bat. (There is a slight discrepancy on the product listing with the RAM if you haven't noticed. The specifications say it's a 2x16GB kit but in the pictures there's clearly 4 sticks. I would guess that it's a 4x8GB kit, but please confirm with the seller if you're thinking about purchasing this product)
---
Price to Performance Value
This is amazing when it comes to the spec sheet from top to bottom along with the custom aesthetic design. This isn't the cheapest RTX 3080 build on Jawa right now, but a build like this will blow any manufacturer's 3080 prebuilt right out the water. An example would be iBuyPower's TraceMR build which costs $200 more, has half the RAM and storage space, and nowhere near the aesthetics as this BubbleTeaBuild's PC.
---
First Upgrades
Honestly, nothing needs upgraded here, like at all. There's a chance that someone interested in a high-end build like this may eventually become interested in a better CPU like the 5800X3D, but I would personally buy this PC and just enjoy it. You won't need to upgrade anything in here for years to come.
---
Conclusion
Overall this build was definitely a big inspiration for me personally selling my own PCs and hopefully for any of you sellers out there as well. Adding just a touch of paint in the right areas can really boost up the aesthetics of your gaming PC to help drive sales and increase profits without a ton of extra work. This is a gorgeous piece of art and I hope it goes to a good home (again, a home with at least a 1440p monitor).
Note: This post may contain affiliate links that earn us a small commission at no extra charge to you. As an Amazon Associate, we earn from qualifying purchases.